MORE SUCCESS THROUGH TRANSPARENCY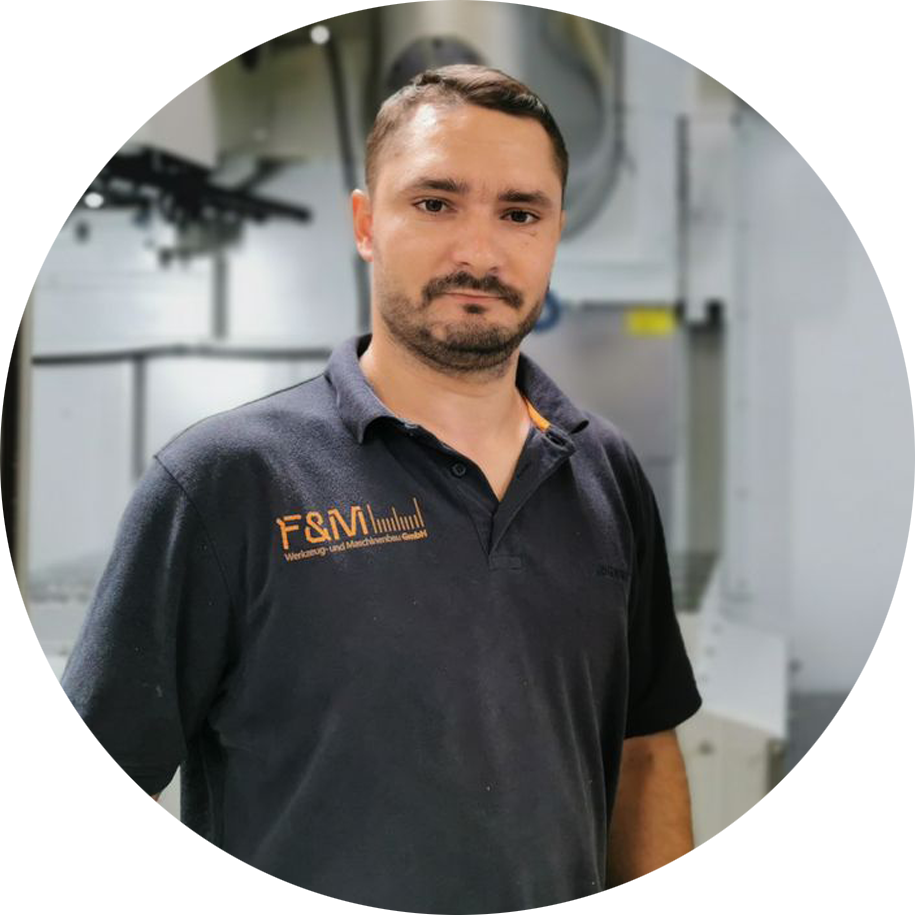 Milan Gorupic
Cutting Machine Operator, F&M Werkzeug- und Maschinenbau GmbH, Berlin

"With smartblick I have an easy and complete overview of our production queue and it's performance in a matter of seconds. Now I know after every shift whether I have achieved the best results with our machines."
Johann Kalinowski
Co-Managing Director, AK Regeltechnik GmbH, Helmstedt

"In the past we used to pass on orders to external service providers when our production capacities where maxed out. Since we are using smartblick, we have been able to identify free slots with a single click - and thus are able to easily manage our orders ourselves again."
Frank Wunder
Head of Digital Manufacturing, Körber & Körber GmbH Präzisionsmechanik, Birkenwerder
"Thanks to smartblick we can, for the first time, precisely visualise, compare and optimise the efficiency of individual shifts - and have already been able to increase the utilisation of our machines by up to 20 percent."
YOUR MACHINES HAVE A LOT TO TELL YOU. LET US TRANSLATE THAT FOR YOU.
smartblick is a pioneering and simple tool to increase the profitability of CNC machine parks. With smartblick you can connect every machine to the digital future. Try it for free after a simple installation!
OPTIMISE YOUR MACHINE USAGE
You go into the smallest details in the procurement process of a new machine. At some point financing is secured, the machine will arrive and the production begins. Are you informed about all the details of the machine usage and its profitability at all times? With smartblick you can identify bottlenecks, increase productive times, reduce tool costs and optimise your shift planning.
INGENIOUSLY SIMPLE INSTALLATION
It only takes 20 minutes to set up smartblick. And these minutes will pay off for a long time, because you will be able to immediately enjoy all the advantages: a detailed digital overview, ease of use, long-term increase in performance, more satisfaction and time for the essentials.
… IN

SIGHT
Check live data online
… OUT

LOOK
Analyse runtimes and identify bottlenecks
… RE

VIEW
Be prepared for audits and internal discussions
… OVER

VIEW
Check orders and utilisation immediately
… UNDER

STANDING
Visualise relevant key figures
… FORE

SIGHT
Optimising instead of buying and re-adjusting
… DURCH

BLICK
Live-Daten online einsehen
… AUS

BLICK
Laufzeiten analysieren, Engpässe erkennen
… RÜCK

BLICK
Für Audits und interne Gespräche vorbereitet sein
… ÜBER

BLICK
Aufträge und Auslastung sofort prüfen
… EIN

BLICK
Relevante Kennzahlen visualisieren
… WEIT

BLICK
Optimieren statt neu anschaffen und neu einstellen
THESE MACHINES ARE ALREADY SUCCESSFULLY
CONNECTED WITH SMARTBLICK
Is your machine missing? Arrange a call back now for an individual consultation!